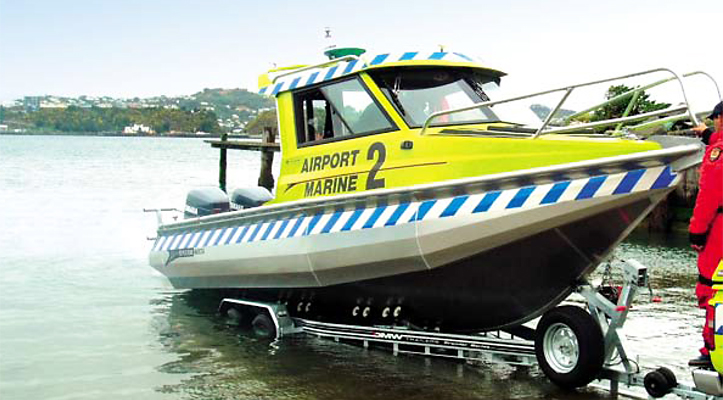 At the Limits – Senator 750
In an age where we're bombarded daily by galleries of images, there are some that lodge in our memories longer than others.
One such photo is framed on the wall of the Senator Boats office in Napier. It shows a Senator 750 with fetching lime green graphics, standing vertically on its transom, outboard engines awash, while a steep, ugly, grey wave rolls underneath it.
"That," says sales manager Murray Thomson, "is the crew from the Wellington Airport Fire and Rescue Service testing their new boat."
So, with a few hours to spare in Wellington recently, I decided to find out just what these Evil Knievels of the boating world were really like…and what sort of injuries they suffered when the boat came back down again.
After negotiating my way through the airport security doors, I was met by deputy crew chief Lester Gemmell, a short and nuggety firefighter with the clipped and efficient manner of a military man.
"We spent two years looking before we ordered this boat."
The fire and rescue service used an open Stabicraft for 13 years before buying the Senator in 2007. The new boat had to be capable of carrying four liferafts, and enough deck space to conduct medivacs or helicopter evacuations from the deck. Working with the Westpac helicopter is a regular part of crew training.