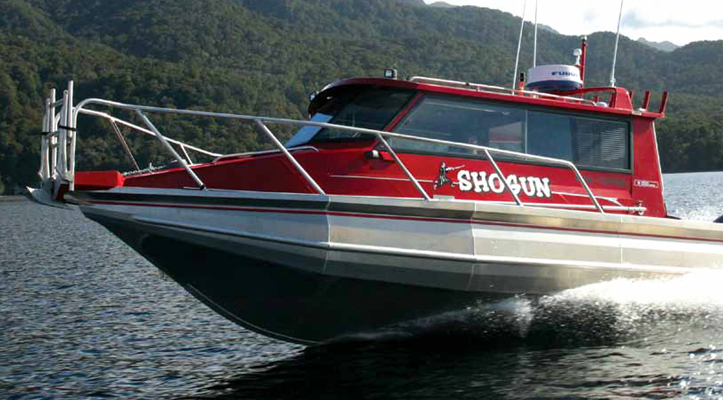 The Hunter's Choice –
Senator 860 & 650
Recreational fishing in Foveaux Strait is not something one takes on lightly…
So when Ewan Bennie began looking for a boat to do just that, his criteria were very specific. His research led him to Napier's Senator Boats – where he quickly became a repeat customer. Lawrence Schäffler reports.
Bennie – we should explain – is a somewhat unusual boatie. With wife Kathryn, he owns and runs an exclusive hunting lodge – Hollyburn Deer Park – in a remote part of Southland. It lies in thick native bush, near Tuatapere, an hour's drive west of Invercargill. And it's within spitting distance of the coast.
Hunting lodge? He caters predominantly for American hunters who come to stay and, with guides, track species such as red stag, fallow buck and wapiti (elk) that live in the park's 1000 acres of bush. He also takes them further afield to hunt tahr and chamois.
The guests come to stay for a week at a time, and as they often achieve their hunting quota within three or four days, they're usually keen to explore anything else New Zealand may have to offer.
As Bennie points out, "often they are keen fishermen, and as the fishing doesn't get much better than in the Foveaux Strait, we thought we'd expand our operation to allow them to sample – catch as well as taste – some of the superb seafood we have down here.
"But because conditions in the Strait aren't always easy, we knew we'd need a special vessel. A good, strong boat able to handle big seas, providing an easy, comfortable ride. She'd have to be built to survey, and equipped with all the comforts demanded by guests paying premium dollars.
"I had a fairly clear idea of what I wanted – a sizeable vessel with plenty of power and a healthy margin of safety. Given the conditions, an enclosed hardtop was obvious.